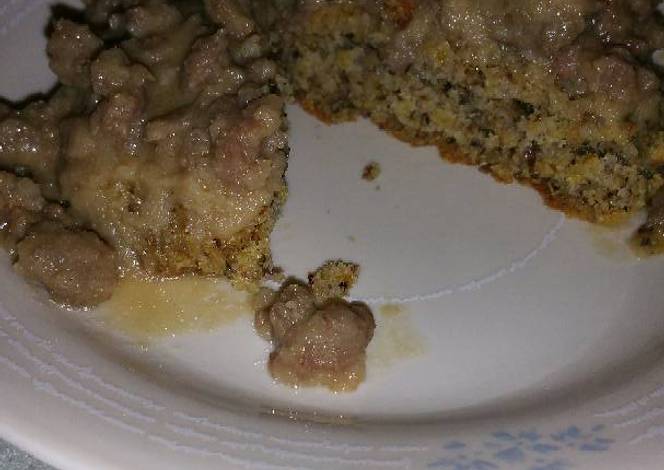 Ingredients :

BISCUITS
1 c shredded cheddar cheese
2 c All-purpose Baking Mix
1 tsp dried basil
1 tsp dried rosemary
1/4 tsp baking soda
1/2 tsp sea salt
2 eggs
1/2 c EVOO, butter or coconut oil, melted
GRAVY
1 lb ground loose sausage
1-3/4 c beef broth
1/4 c coconut flour
1/4 c coconut milk
1/2 tsp onion powder
1/2 tsp garlic powder
1/2 tsp sea salt
Method :
Preheat oven to 375°F. Line baking sheet with parchment paper.
BISCUITS
In food processor, pulse cheese to fine granular consistency and transfer to large bowl.
Mix in baking mix, basil, rosemary, baking soda and salt.
Add in eggs and butter or oil. Mix well, dough will be thick.
Spoon dough onto baking sheet into ten 4" rounds. Bake 10 min. or until lightly browned and toothpick inserted in center comes out clean.
GRAVY
In large skillet, heat oil. Brown sausage then transfer to a plate.
Return skillet to stove and heat broth to almost boiling. Reduce heat and whisk in flour 1 tsp at a time until desired thickness.
Pour in milk. Add onion powder, garlic powder and salt. Return sausage to skillet and simmer on low heat for 5 min. Add additional salt to taste.