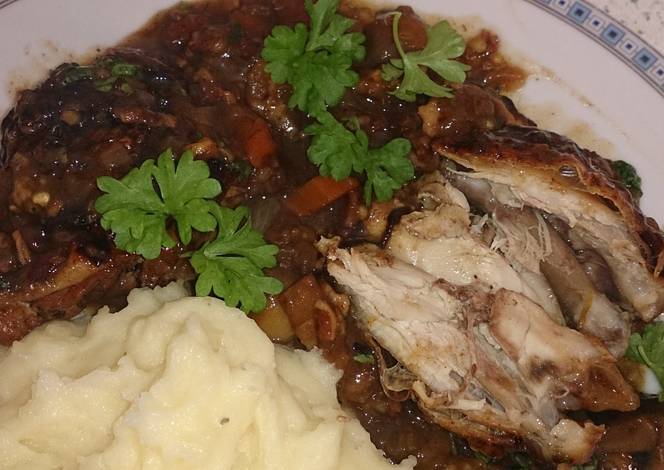 Ingredients :

500 ml Red Wine
25 ml Brandy (optional)
1 Carrot
2 Red Onions
6 Chicken thighs
3 rashers Thick Cut Streaky Bacon
Butter
250 ml Chicken Stock
250 grams Button Mushrooms
2 cloves Garlic
3 sprigs Thyme
2 Bay Leaves
Parsley
3 Large Potatoes (for the mash)
Flour/Corn Starch (to thicken the sauce)
Method :
Cook some diced bacon (or lardons) in a Dutch oven on the hub with a bit of butter and oil (the oil helps stop the butter from burning).
Once cooked remove the bacon with a slotted spoon so the fat stays in the pan.
Next cook some chicken (thighs are best with this), skin down in the same pan/dutch oven.
Once the chicken has a bit of colour to it, remove it.
Next add mushrooms (as many as you like halved), carrots (1 diced), red onions (2 quartered) and a couple of cloves of garlic (minced) to the same pan.
Cook until the onions have caramelized and the mushrooms have a bit of colour to them then add a shot of brandy (optional).
Next add about 500ml of red wine to it with about 250ml of chicken stock (modify measurements as needed. Its 2/3 wine to 1/3 chicken stock)
Once it starts to simmer add back the chicken and bacon. Then add a few sprigs of thyme, couple of bay leaves and season to taste.
Next place the Dutch oven (with the lid on) in the oven at gas mark 4 (180°C/350°F) and cook for about two hours. (Remove the lid for the last 30 minutes).
Once the two hours are up remove the Dutch oven from the oven and place back onto the hub and remove the chicken. If the liquid still needs a bit more reducing, do that now.
Next skim off any fat, remove the thyme and bay leaves and add some corn starch to thicken the sauce. Ideally you should use Beurre manié, but corn starch will be fine.
Once the sauce is at the desired thickness add the chicken back to warm it though with some chopped parsley.
Serve with mashed potatoes.
Tip#
I used a baked potato to make the mash. Just place the potato/s in the top of the oven with the Coq au vin. 2hrs at gas mark 4 (180°C/350°F) will give you a nice fluffy potato.
Once the potato is cooked, cut it in half and scrape out the innards with a spoon and place into a bowl. Next add a splash of milk and a knob of butter and mash with a fork. I also like adding a small amount of english mustard to my mash.