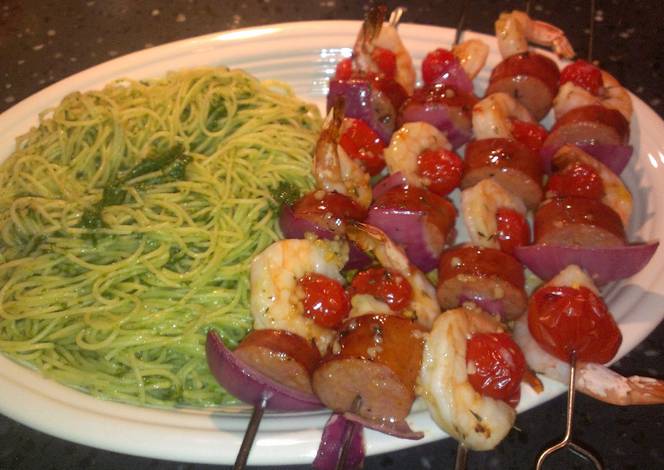 Ingredients :

1/2 cup or a little more of olive oil
3 large garlic cloves, peeled and crushed
1 tbs. paprika
1 tbs. dried thyme
1/2 tsp. red pepper flakes
3 tbs. sherry wine vinegar
Dash salt & pepper
12 extra-large shrimp, uncooked, peeled, deveined
1 lb. chorizo sausage (packaged), cut in 1" pieces
1 box cherry tomatoes
1 red onion, cut into small wedges
Nonstick vegetable oil spray
4 long metal skewers
Method :
In a bowl, combine the first 7 ingredients and whisk real good to blend for the glaze.
Thread onion wedge slice, sausage piece, shrimp, and cherry tomato onto the skewer. Repeat this order on the same skewer.
Tip: thread one end of shrimp, then the tomato, then the other end of the shrimp. This protects the tomato when grilling and keeps the shrimp from rolling around when turning the skewer.
Place skewers on a casserole dish to collect drippings. Brush skewers with glaze. Chill the dish for 40 minutes.
Coat grill rack with nonstick spray. Prepare grill (medium-high heat).
Brush skewers again with glaze. Place on grill and cook for about 3 minutes on each side until shrimp is opaque.
Arrange skewers on a platter and brush with glaze. Serve with rice, pasta, etc. and the bowl of glaze.
Can also be made as an appetizer using 5-6" size skewers.