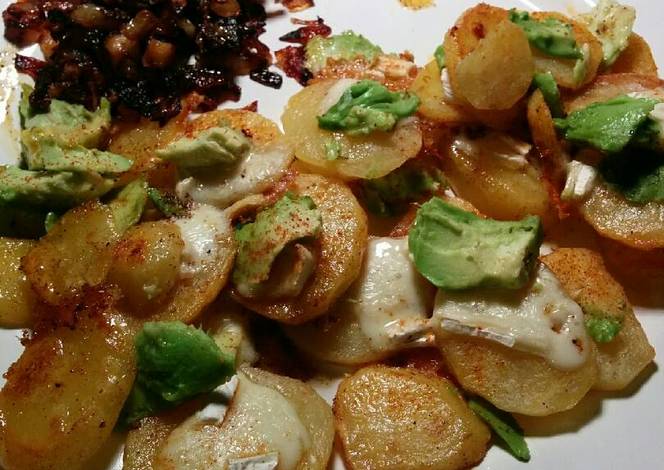 Ingredients :

3 potatoes
1/2 avocado
1/2 onion
50 gram brie (cheese)
to taste paprika powder
to taste salt
to taste pepper
5 spoonfuls cooking oil
Method :
Peel potatoes, rinse, and cut them into slices about one centimeter thick. Boil the slices in water for about ten minutes.
Place a saucepan with lid on a hob. Set it to medium heat. Cut half an onion into small cubes or slices. Pour some oil into the saucepan, and transfer the onion cubes/slices into it as well. Stir now and then to make sure it cooks evenly. Keep the temperature around medium/low. The caramelization process should take about 25 minutes.
Put a frying pan on a hob with medium heat. Pour some oil in it. Transfer the potato slices to the pan, and distribute so they all touch the bottom. Sprinkle half of the spices on top. Fry for about 10 minutes, then turn each potato over.
Once the potatoes are turned over, place bits of brie and avocado on top of the potatoes. Then sprinkle on the rest of the spices. Fry for about 10 more minutes.
Remember to adjust temperatures if necessary.
Bon appétit!