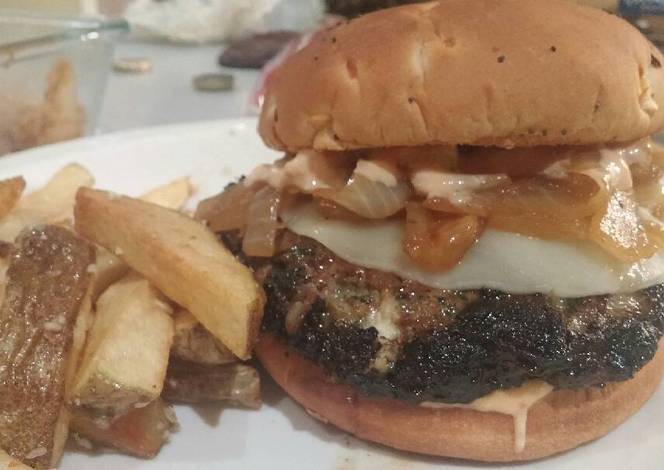 Ingredients :

2 pounds ground beef
2 pounds ground lamb
2 sweet onions
2 full cloves of garlic
6-8 russet potatoes
4 buns (sesame or kaiser recommended)
1 bottle 1000 Island Dressing
to taste Creamy horeseradish
to taste Coarse ground kosher salt
to taste Coarse ground black pepper
2-4 ounces feta cheese
2 cups oil
Method :
Mince all garlic.
Dice 1/2 an onion, slice other 1 1/2.
Mix horseradish cream with 1000 island dressing to taste and chill.
Mix ground meat with diced onion, feta,1/4 of minced garlic and kosher salt to taste.
Cook sliced onions in separate pan until caramelized.
Form meat mix into 4 burger patties and cook to medium (cast iron grill or bbq recommended)
Cut potatoes into fries and cook in oil on medium heat until golden brown.
Toss fresh fries with minced garlic and kosher salt to taste.
Toast buns in oven.
Place a cooked patty on a toasted bun, add a slice of provolone and then cover generously with caramelized onions and horseradish russian dressing. Serve with healthy side of fresh garlic fries and enjoy!