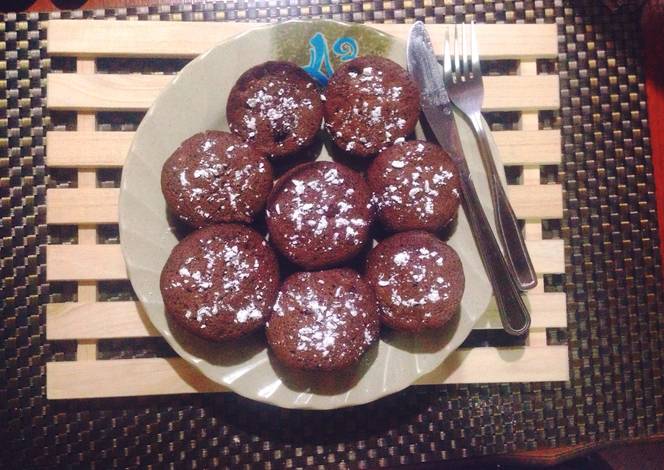 Ingredients :

6 tbsp Margarine (softened)
1/3 cup Caster sugar
1 large Egg
1/2 cup All-purpose flour
1 1/2 tbsp Cocoa powder (unsweetened)
1/2 tsp Baking soda
1/2 tsp Baking powder
1 Chocolate chips
1 Powdered sugar (icing sugar; optional)
Method :
Preheat oven to 375°F. Prepare cupcake/muffin pan by greasing with butter and sprinkling some flour. This recipe makes 8 cupcakes.
Put together the margarine, sugar, egg, flour and cocoa. Mix well through a whisk or you may opt to use an electric mixer, stand or hand.
Add the baking powder and baking soda. Mix thoroughly until batter is smooth.
Using half of the mixture, spoon some on the pan.
Put the chocolate chips on each one and cover with the other half of the batter.
Bake for 20 minutes. The cupcakes should rise once baked.
You may opt to sprinkle some powdered sugar on top. Serve and enjoy!