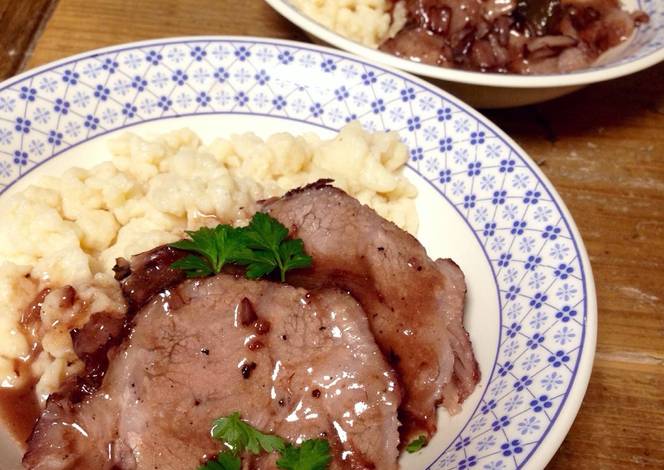 Ingredients :

450-500 g (1 lb) pork roast - I used shoulder
********
MARINADE:
1 carrot
1/3 stalk celery
1 small onion
1 handful fresh parsley
5 juniper berries
5 peppercorns
1 bay leaf
250 ml (1 cup) red wine
180 ml (3/4 cup) vinegar
********
GRAVY:
1 Tbsp butter
1 Tbsp flour
1 cup marinade liquid set asided after cooking
to taste salt & pepper
Method :
Roughly chop onions, carrots and celery. Put in pot with parsley, juniper berries, peppercorns and bay leaf.
Add wine and vinegar to pot. Bring to a boil, turn heat to low and cover with lid. Simmer for 5 minutes.
Let the marinade cool completely before using with meat.
After the marinade cools, put the pork and marinade in a container so the pork is fully submerged.
Marinate for 5-6 days and in the fridge. Turn the pork every day or two to ensure it"s evenly soaked.
Remove meat from marinade and dry off with paper towels. Sprinkle with salt and pepper.
Melt butter or heat oil on high in a heavy pot. Brown meat on all sides.
Pour in the marinade liquid along with the veggies and spices.
Bring to boil, then turn to low heat. Cover and simmer for 45 minutes.
After 45-60 minutes, remove the pork to a plate. Strain the vegetables and spices out of the cooking liquid (Keep the liquid! You can toss out the veggies). Set aside 1 cup of the cooking liquid for making the sauce. Return the rest of the cooking liquid and pork to pot for now.
To make the sauce: Melt butter and add 1 tbsp butter in a separate sauce pan. Mix together and sauté until golden in color.
Add 1 cup of the cooking to the flour and butter mixture. Bring to a simmer and cook, stirring often until reduced into a smooth sauce.
Here is my sauce after reducing.
Pour the finished sauce back into the pot. Cook for an additional 15 minutes on low heat. Add salt & pepper to taste.
Slice the pork on a plate and keep the sauce aside for pouring on top when serving.
Serve with spätzle (I have a recipe in my profile if you want), potato dumplings (kartoffelknödel) or bread dumplings (semmelknödel - I have a recipe for this too). Pour sauce over to taste. Also often served with red cabbage.