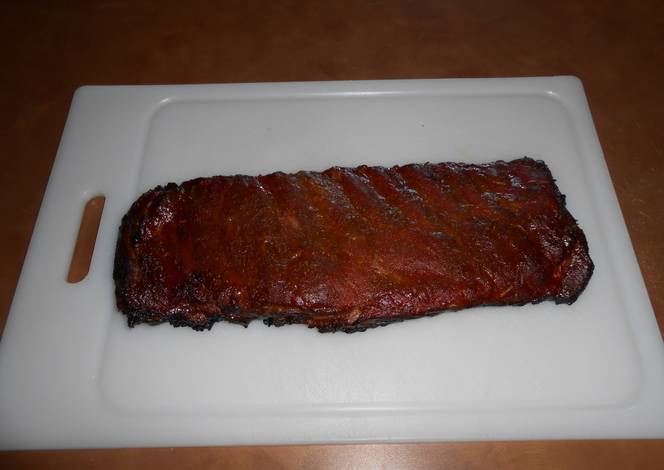 Ingredients :

Dry Rub
1/2 cup paprika
3/4 cup packed brown sugar
3/4 cup sugar
1/4 cup garlic powder
1/4 cup kosher salt
2 tbsp ground black pepper
2 tbsp onion powder
2 tsp cayenne pepper
Method :
Remove membrane from back of ribs and sprinkle dry rub generously on both sides. Wrap in plastic and let sit overnight in refrigerator.
Start smoker and bring to 275° using wood of your choice. I like pecan and apple.
Place ribs in smoker meat side up and cook for 2.5 hours.
Get a long sheet of aluminum foil and fold sides up to make a tray. Add a splash of apple juice, a little of the dry rub, and 2 or 3 tbsp of butter.
Place ribs in foil meat side down and double wrap in foil.
Return to smoker and cook for 1 hour.
Remove from foil, brush on BBQ sauce of your choice, and return to smoker to cook for additional 45 minutes to 1 hour.
Remove from smoker, let rest for at least 30 minutes, slice and enjoy.