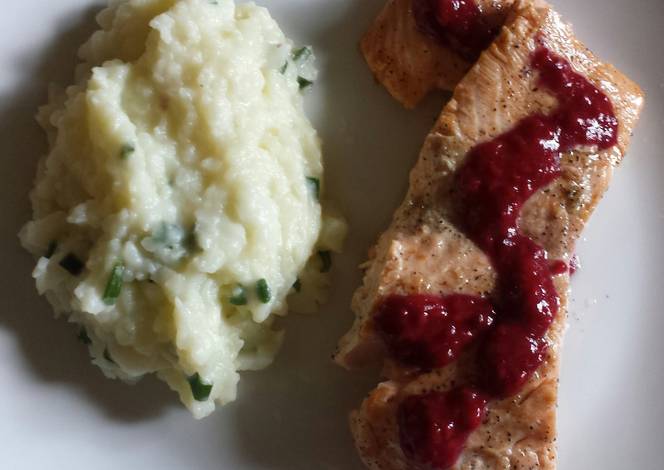 Ingredients :

6 oz salmon
2 baby potatoes
1/8 cup green onion
2 tbsp butter
1 tbsp sour cream
1/8 cup blackberries
1/8 cup raspberries
3/4 tsp salt
1/4 tsp ground black pepper
Method :
Take 2 potatoes, peel, and slice to 1/4" thickness. Place in a pot of water and bring to a rolling boil.
Take blackberries and raspberries, and dice. Place in a pot with 1/2 cup water and bring to a boil. Let berries breakdown.
Heat frying pan with 1 tbsp button. Add salmon, and sprinkle 1/4 tsp salt and black pepper over fish. Sear outside, and reduce heat. Cover, and cook until internal temperature is at 155°F.
Dice 1/8 cup of green onions.
When potatoes have softened, drain all water. Mash potatoes, add sour cream, 1 tbsp butter, remaining salt, and green onions. Fold ingredients together, and return to low heat.
When salmon is cooked, remove from heat. Remove mashed potatoes from heat. Plate next to each other.
When reduction is complete (add flour or cornstarch if needed to thicken), drizzle over top of fish.