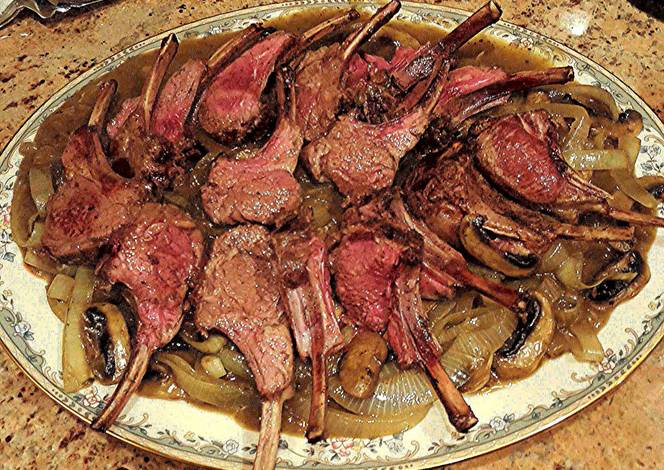 Ingredients :

2 Racks of Lamb (french cut)
1 salt & pepper
2 vadallia onions
2 box white button mushrooms
2 cup lamb or beef stock
2 cup white wine (Pino Grigio)
3 tbsp buttter
3 tbsp all-purpose flour
2 tbsp olive oil
Method :
Salt & pepper the racks of lamb generously & make sure the lamb is out of the refrigerator long enough that the meat is room temperature.
In large round pan put flame on medium/high & brown the racks of lambs on all sides.
Put the pan with the lamb in 425° preheated oven for 12 to 20 depending on how you like your meat cooked.
Remove from oven & put on cutting board & let sit.
In same pan that lamb was cooked in add lil olive oil on medium/high heat & put in chopped onions & mushrooms with salt & pepper & cook stirring for a few minutes.
In the middle if the pan make a rue. Add butter & flour & mix until it becomes a paste.
Then add your stock & wine, put the flame to high & stir & cook until sauce thickens to a nice consistency.
Add sauce with onions & mushrooms to a serving platter & chop up the lamb into individual chops (at this time the meat should of settled & the meat juice should remain in the hops instead of running out) & place the chops on top of the sauce & serve.