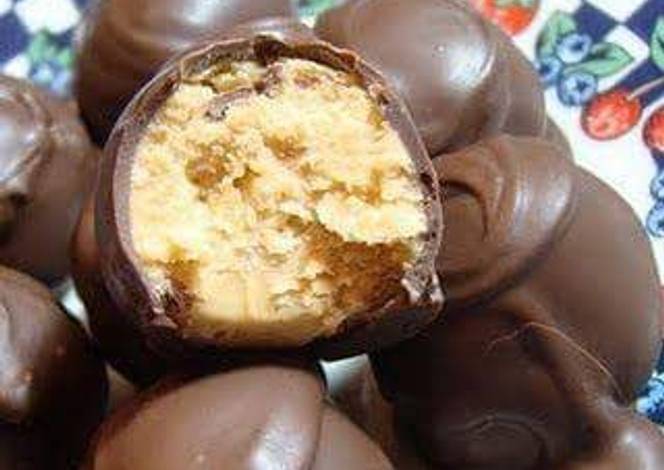 Ingredients :

2 1/4 cup smooth or chunky peanut butter
2 cup bag of confectioners sugar
1/4 cup melted butter
2 cup semi sweet chocolate chips
2 tsp shortening
2 1/2 cup flour
Method :
In a large bowl, stir together the peanut butter, confectioners sugar, melted butter and flour until the mixture is crumbly. For the next step, the best way that I"ve found to make a smooth filling is to use your hands to mix everything together.
Line a baking sheet with wax paper. Roll the peanut butter filling into 1 inch balls and line the baking sheet with rows of the balls. Set the baking sheet in the freezer for at least 1 hour to chill the peanut butter balls for easier dipping.
While the peanut butter balls are chilling, melt the chocolate in the microwave in a microwave safe bowl that is deep enough for dipping. I melted 2 cups of semi sweet chocolate chips at a time, stirring at 30 second intervals until smooth.
Remove the baking sheet from the freezer. Use a toothpick, wooden skewer, or slotted spoon to pick up a peanut butter ball and then dip it into the chocolate, turning quickly to cover the entire candy. Place onto a second baking tray that has also been lined with wax paper. Swirl the chocolate on the top of each candy for a pretty design. Refrigerate until the chocolate has completely hardened.
Store the candies in a sealed container in the refrigerator.**Warning** These little candies are very addictive!!