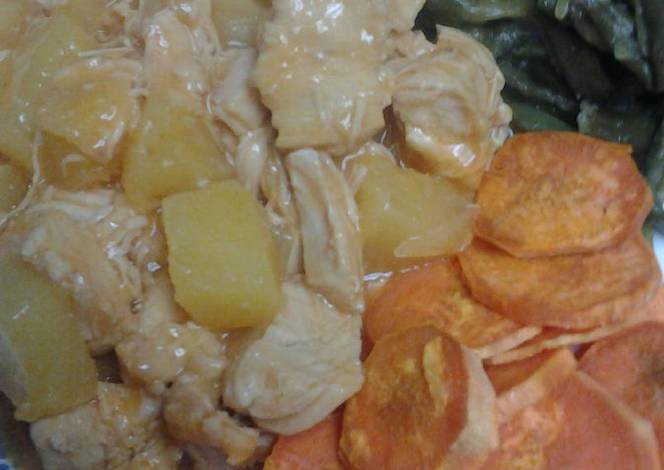 Ingredients :

8 skinless boneless chicken breast
1-1/3 cup chicken broth
1-1/3 cup white wine, I used Woodbridge Chardonnay
1 large pineapple
1 teaspoon white pepper
1-1/2 tablespoons tomato paste
1 teaspoon salt
1/2 teaspoon granulated garlic powder
1/2 cup honey
1/4 cup arrowroot powder
3 tablespoonfuls of water
Method :
Add chicken broth, wine, and chicken breast in a pot and bring to a boil
Cut the top off the pineapple about 3/4 an inch below the top. You can save it and plant in the ground, it will grow. See recipe; "many uses for a pineapple"
Cut the bottom off the pineapple. Then peel the pineapple and cube into bite sized pieces.
Add turmeric, butter,salt, white pepper, onions, and pineapple. Cover and cook for 25 minutes.
After 25 minutes uncover cook for 15 minutes.
Add honey and tomato paste
Mix the arrowroot powder with water. Pour into chicken mixture and stir constantly. It will thicken.
Serve I hope you enjoy!