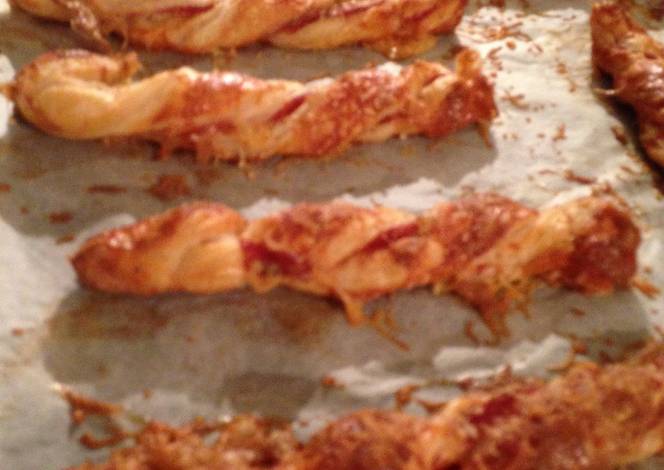 Ingredients :

375 g ready-rolled all-butter puff pastry
3 slices Parma ham, cut into strips
100 g Stilton cheese, crumbled
1 tbsp celery seeds, optional
Parmesan cheese, for grating over
1 free-range egg, beaten
Method :
Preheat the oven to 200C/Gas 6. Lay the pastry on a lightly floured surface. Place the parma ham slices over one half of the pastry, and crumble the Stilton cheese evenly over the top.
Fold the other half of pastry over the top of the ham and cheese half and use a rolling pin to roll out thinly, squishing the cheese and sticking the halves of pastry together as you do so.
Brush the top of the pastry sandwich with beaten egg, sprinkle with celery seeds if using, and then grate some Parmesan cheese over the top. Press in with your fingers.
Cut the pastry into long strips with a sharp knife. Pick up each strip one at a time and transfer to an oven tray lined with baking parchment. Twist the strip into a spiral and press each end down to hold the twist. Brush a little more egg over the straws and grate over some more Parmesan. Bake in the oven for 12–15 minutes until golden and crispy.
Leave on the baking tray for a few minutes and then transfer to a wire rack to cool and crisp, but don"t leave them to go cold as they are much more delicious eaten warm. Serve with ice cold cava.