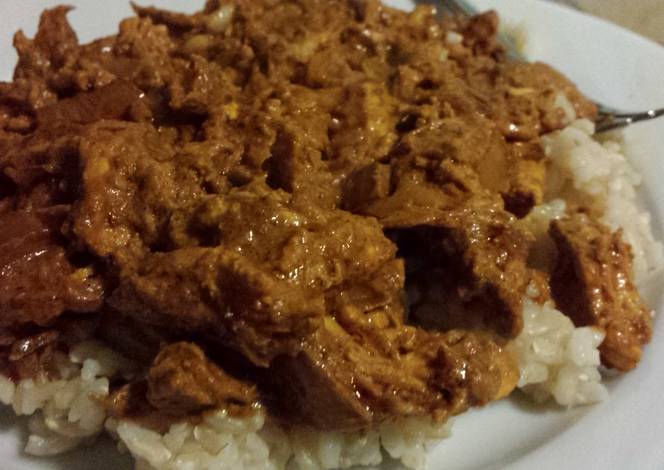 Ingredients :

8 tbsp butter
3 each chicken breasts, skinless
2 cup onion, chopped
6 oz tomato paste
2 each bay leaf
2/3 cup water
seasoning
1 tsp ginger powder
2 tbsp curry powder
2 tsp coriander seed
1 tbsp chili powder
1 1/2 tbsp ground cumin
1 tsp garlic powder
1 tsp salt
1 tsp black pepper
1/2 cup sour cream
Method :
Saute onions in the butter on low heat, stirring regularly until the onions turn reddish.
While the onions are sautéing (or earlier if you want to marinate it longer) mix seasoning group together.
Add and mix in the tomato paste into the onions and butter.
Brown the chicken breasts in the mix.
Once browned, add water and bay leaves.
Cover and let cook 30 minutes.
Once the chicken is cooked through, take it out of the pan and shred/chop the chicken. Return to pan. Remove bay leaves.
Add seasoning mix and heat over low until warm.
Serve over cooked rice, noodles or your choice of base.