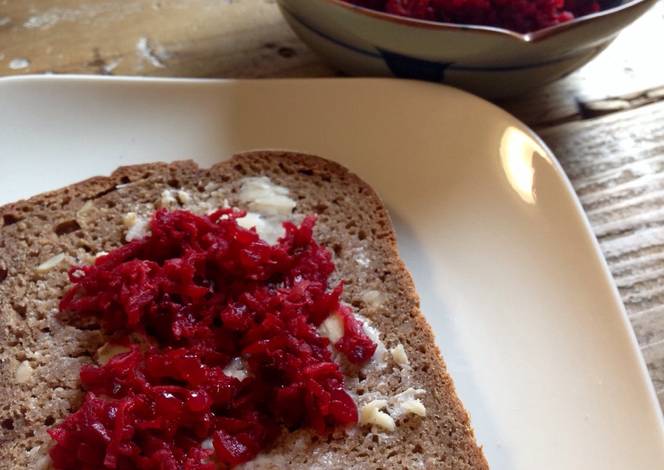 Ingredients :

1/2 onion
1 medium beet root
1 large carrot or 2 small
1 Tbsp butter
2-3 pinches salt
1-2 sprigs fresh thyme (1 tsp or so)
1/2 tsp chopped fresh rosemary
1 splash balsamic or other dark vinegar
1/2-1 tsp sugar, optional
to taste black pepper
Method :
Finely mince the onion. Peel the beets and carrots, and grate finely with a hand grater.
In a medium pot, melt butter and add onion. Cook on low until golden and soft.
Add the grated beets and carrots to the pot and stir into the onions. Then add in the thyme, rosemary, a couple pinches of salt and a splash of vinegar.
Cover the pot and let it cook on low heat for 30 minutes. Stir the jam 2-3 times during cooking.
After 30 minutes it should be soft and sweet. Add a little sugar and black pepper to taste if you like.
Use as a spread for bread, or even as side dish itself.