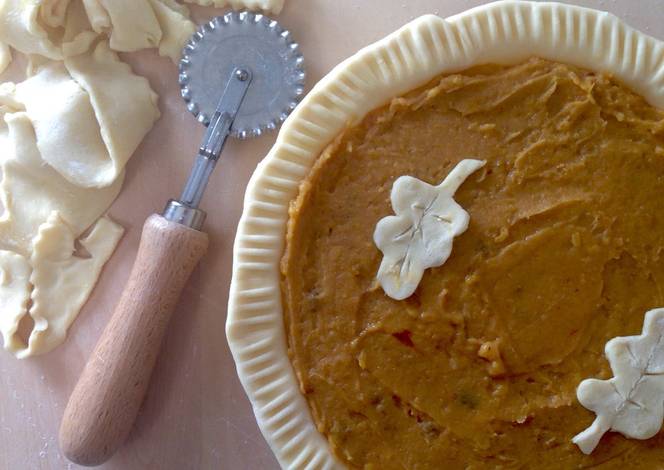 Ingredients :

300 g all-purpose/plain flour
200 g butter
100 g (100 ml) ice water
2 pinches salt (if using unsalted butter)
10 g (2 tsp) sugar - optional for a hint of sweetness
Method :
Add flour to a large bowl. If using unsalted butter, mix in a few pinches of salt.
Cut chilled butter into small cubes and add to flour. Crumble it into the flour with your fingers until the butter turns to pea-sized pieces and dough is sandy.
Mix in the sugar if using. Then gradually mix in the ice water until the dough start to come together.
On a floured surface knead dough briefly until it forms a smooth ball.
Wrap each ball and refrigerate for at least 1 or 2 hours. You can also make ahead and keep in the fridge up to 1 week before using.
Roll out when ready to get baking! On a well floured surface, unwrap one ball of dough, sprinkle with some flour and start rolling out with your rolling pin.
To blind bake for very wet fillings, lay a piece of aluminum foil over the pie crust and fill it with pie weights or dry beans. Bake at 425 F/210 C for 10 minutes or until slightly golden.
Divide into two equal pies if you made the full recipe.
Roll out a little, lift and turn it a quarter turn and roll out more. Repeat several times until it"s rolled out into a 30-32 cm (12-13 in) circle.
Trim the rough edges with a knife so it"s a pretty 30 cm/12 in circle (or smaller for smaller pie/tart pan). I used a big bowl as a stencil to cut out.
Here it is after cutting.
Gently lay the trimmed crust into your pie dish and fold over the excess edges. You can make a crimping pattern or use a fork pattern the edges.
If you don"t need to blind bake, go ahead and add your filling and stick it in the oven!