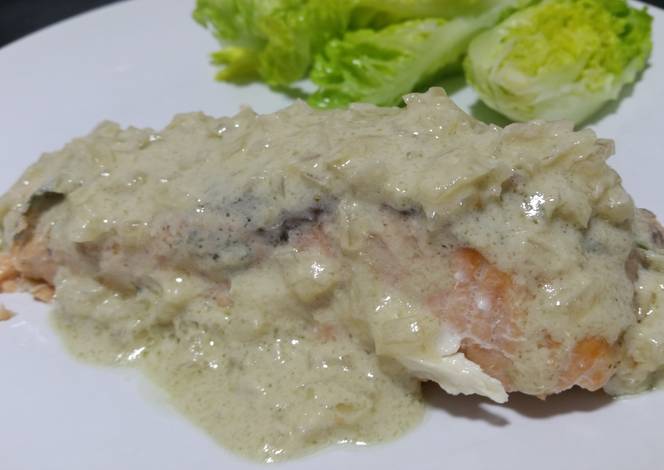 Ingredients :

2 boneless and skinless salmon fillets
1 onion
1 glass white wine
160 gr. evaporated milk (or cream)
100 gr. roquefort cheese (or other blue)
Few leaves fresh sage
Salt and pepper
Method :
Put a tiny bit of olive oil in a small saucepan and heat gently. Chop the onions, super fine, and add to the pan. Stir for a couple of minutes on a low heat
Add a generous glass of white wine, put the heat up and when things start to simmer, put the heat at lowest possible setting and leave for about 20 - 30 minutes. The idea is for the onion to soak up all the wine while cooking. Keep checking to make sure the wine hasn"t totally evaporated
Prepare the salmon parcel. Put some sage leaves (or another herb; parsley, dill - salmon herb par excellence - chives or tarragon are all fine) under and on top
Salt and pepper on both sides top
Close and put in pre-heated oven at 190ºC for 35 minutes if your fillets are as big as these. If not, scale down time-wise
Let"s turn our attention to the sauce. Once the onion has absorbed the wine
Turn the heat off, add the blue cheese and stir
Until the blue cheese melts.
Turn on the heat (minimum) and add the evaporated milk (or cream - or natural yoghurt which would also work really nicely)
Leave on a low heat stirring now and then to prevent any curdling
One thickened it should look like this
Take the salmon out of the oven and open the parcel. It should be really tender and still pink in the centre
Serve with the healthiest ingredient you have on hand (I had lettuce!!!) and enjoy. Delicious and quite luxurious too!