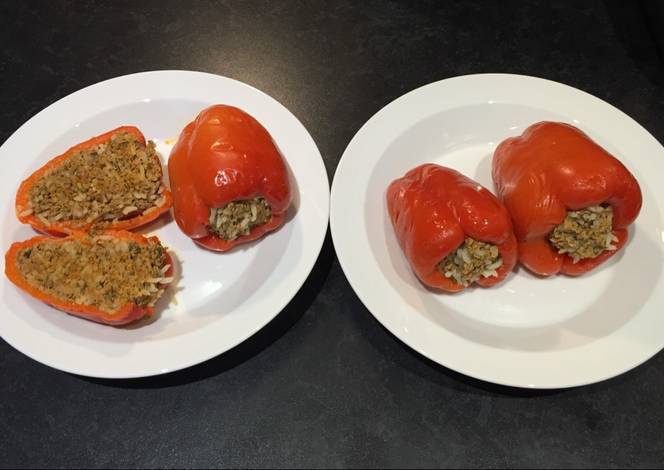 Ingredients :

400 g minced meat (fatty, such as pork, veal)
4 red peppers
75 g rice
100 g passata
1 onion
2 tbsp sweet paprika
2 tbsp dried coriander
2 tbsp dill
1/2 tbsp tarragon
1/2 tbsp oregano
1 tbsp cumin
1 tsp chili flakes
salt
pepper
Method :
Carefully cut the stems out of the peppers and remove all the seeds from inside, rinse out the peppers with water.
Finely chop the onion and gently fry on a low heat for a few minutes, then set aside.
In a large bowl, add the mince, rice, passata, fried onion, and all the herbs and spices (you can use whatever you want). Add as much salt and pepper to suit your tastes.
Mix everything together well with your hands.
Stuff each pepper full with the mixture.
Place the peppers in a large saucepan and fill with water until the peppers are covered. Bring to the boil, cover and leave to simmer on a low-medium heat for at least 90 minutes. Remember to check the water level occasionally and top up if necessary.