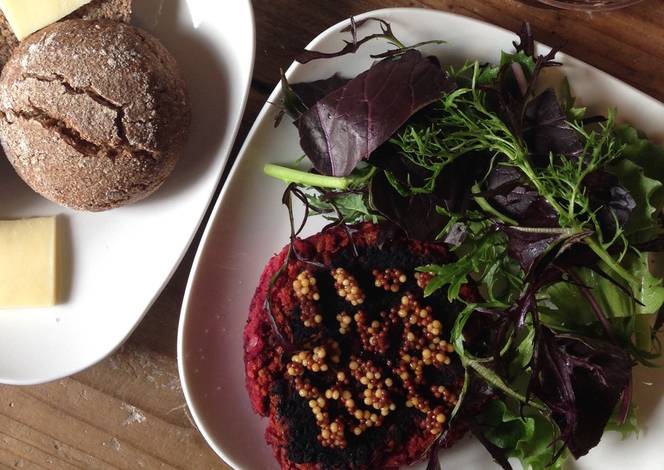 Ingredients :

150 g (3/4 cup) uncooked kidney beans (black beans are great too!). You can sub 1 can of cooked beans
50 g (1/2 cup) quick oats
100 g (1/2 cup) cooked rice, brown recommended
1 clove garlic (optional), minced
1/4 onion, minced
1/2 carrot or 2 small beets, grated (75-100 g total)
60 g (1/4 cup) corn (optional) - about 1/2 ear fresh corn
1 tsp sea salt, may need a little more if not using soy sauce
2 tsp good soy sauce, if you have it - it gives some extra depth in flavor
to taste pepper
1 tsp paprika (for smoked paprika use 1/2 tsp)
1 tsp ground cumin
1/2 tsp ground coriander
1/2 tsp cayenne pepper
1 Tbsp cooking oil for frying if using a frying pan
Method :
Soak the beans overnight or 8-12 hours in plenty of water.
Drain the soaking water, rinse the beans and cover with plenty of water in a pot. Boil for 60-90 minutes until soft enough to mash (the time may be different depending on the type of beans you use).
Drain the beans and mash with a fork in a medium bowl.
Add grated vegetables (carrot, beet, etc), cooked rice, oats, spices, salt, pepper, garlic and onion to the bowl.
Mix up well with your hands. It should be firm enough to hold together so you can make patties. If it"s too wet, add more oats to help the mix stick together.
Form into 4 patties, or you can make several mini ones. (these are the carrot version in the pictures)
Cook on a grill or in a heated frying pan with 1 Tbsp oil for about 7-10 minutes on each side. They should be browned on both sides.
Enjoy as is with some mustard and other favorite toppings, or sandwich into buns with lettuce, tomatoes, etc.