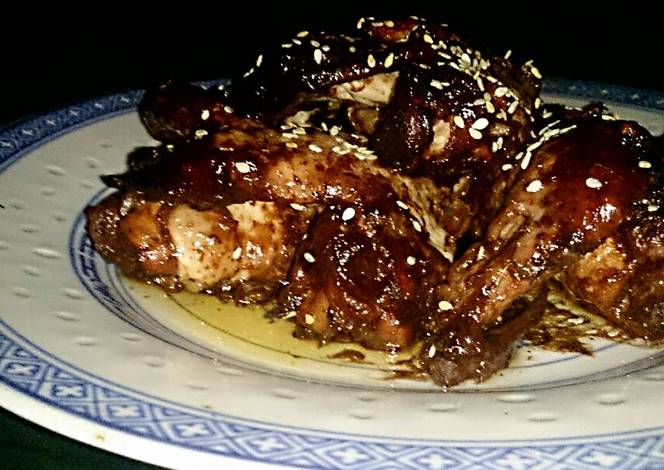 Ingredients :

1 kg (2 lbs) chicken wings
marinade/sauce (see below)
⭕⭕⭕
✴✴✴ thick ingredients ✴✴✴
2 tablespoons ketchup
2 tablespoons hoi sin sauce
1 tablespoon garlic purée (adjust if using fresh or powdered ingredient)
1 tablespoon ginger purée (adjust if using fresh or powdered ingredient)
1 1/2 teaspoons sugar
⭕⭕⭕
✴✴✴ thin ingredients ✴✴✴
2 tablespoon dark soy sauce
2 tablespoon rice vinegar
3 tablespoons cola or cherry cola (full sugar, to aid in caramelisation of the sauce)
Method :
Mix together all the thick ingredients in a suitably-sized ovenproof dish. Stir well
Add the thin ingredients, and stir well again. I"m using Cherry Coke™ in my marinade
Place the chicken in the oven dish. Turn the wings until nicely coated in the sauce and allow to marinate for at least 1 hour, preferably overnight
Preheat the oven to gas mark 7, 220°C (425°F) when ready to cook
Stir the wings in the sauce again. Put in the oven for 50-60 minutes, turning every 10-15 minutes
If the marinade doesn"t become as sticky as you"d like, strain it off into a pan and reduce until it is sticky. Pour back over the chicken and pop back in to the oven for 5-10 more minutes
Check the chicken to see if it"s done (juices run clear when pierced with a skewer)
Dig in and get messy...