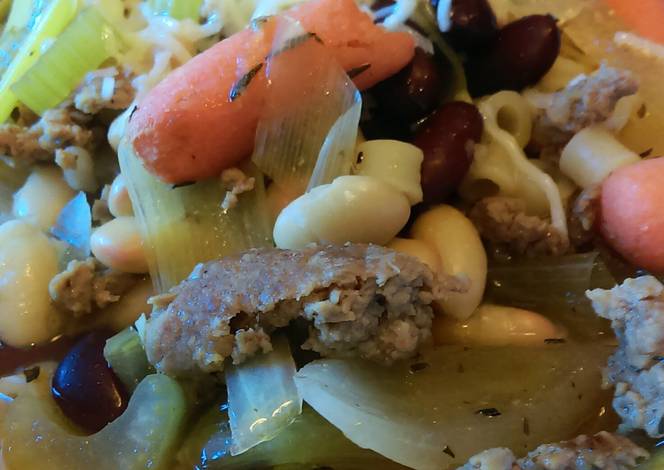 Ingredients :

1 tbsp reserved bacon fat. I save bacon grease from previous cooking.
1 lb sausage links, removed from casings
15 oz can of great nothern beans, drained and rinsed
15 oz dark red kidney beans, drained and rinsed
8 cup chicken broth
1 cup baby carrots
1 1/2 cup sliced yellow onion
2 leeks, cleaned and sliced
1/2 cup chopped celery
1/4 tsp red pepper flakes
1 tsp salt
1/2 tsp ground black pepper
1/2 tsp thyme
1/2 tsp garlic powder
1 tbsp worcestershire sauce
1 tbsp sweet chili sauce
1 3/4 cup uncooked ditalini pasta
Method :
In a large dutch oven, heat bacon fat over medium heat.
Add sausage meat and break pieces into a crumb texture.
Once almost cooked through, add all the spices and seasonings.
Add in your vegetables. Saute for three minutes.
After three minutes, add in the chili sauce and Worcestershire.
Now add beans and stock.
Turn heat to low, cover pot and simmer for 45 minutes.
Add in dry pasta and continue to simmer, covered for 15- 20 more minutes.
Serve with a great crusty bread.
Recipe by taylor68too.